For those of you who don't know this, I am a huge fan of Gordon Ramsay. Why? Why not? The guy has enough angst to shame a teenager. Well of course, his recipes are also amazingly simple! Well, at least in his current books. I heard his older cookbooks are actually pretty complex and difficult. I found this fish cake recipe on-line from his show "The F Word," which I have to admit, I've only watched a couple of times while I was flying on Virgin America, and yes, that was a shameless plug for my favorite airline.
Here
is the recipe, but I'll list the ingredients I used here. You can also find the video of Gordon Ramsay making this
here
too.
Ingredients:
1/2 pound Mahi Mahi
1/2 large prawns, peeled and deveined
1 tbsp Thai red curry paste
1 finely grated zest of 1 lime
1 tbsp chopped cilantro
1 medium egg
1 tsp brown sugar
1 tsp fish sauce
Pinch of sea salt
1 tbsp chopped green onion
Vegetable oil, for shallow-frying
I decided that I didn't want to put green beans in my fish cakes because it just seemed a little TOO off-beat and creative for me. Instead, I replaced it with some green onions. I also wished that I followed Gordon Ramsay's wording of "finely grated zest" of lime because I didn't have a grater and thought I could cut the lime peel thin (and small) enough, but I didn't! D: You can see how big my chucks are at the top center in the photo above.
I also still don't have a food processor, so I chopped all the shrimp and fish by hand, but I thought it was okay because Gordon Ramsay warned not to over process the meat so you can retain some of the seafoods' texture. AH! I listened to this too well and my chucks were too big! The second time I made this I put everything in a blender... and made it into a fish paste and over did it! :O
The fish cakes came out too watery as you can see in the photo. This is because I decided to use the Mahi Mahi that I had in my freezer, and I defrosted it in a bath of water, and I guess I didn't dry it enough. The second time around, I made sure to dry out all the ingredients so that it wasn't so wet.
They took longer than I expected to cook. The first time I fried them for maybe 2 minutes on each side and they were still a little raw when I took them out. The next batch I did, I cooked them a little longer, and they turned into rubber! So the next time, I made them a little thinner and cooked them for two minutes, and they turned out okay. :)
Draining the oil off made me feel less like a fatty.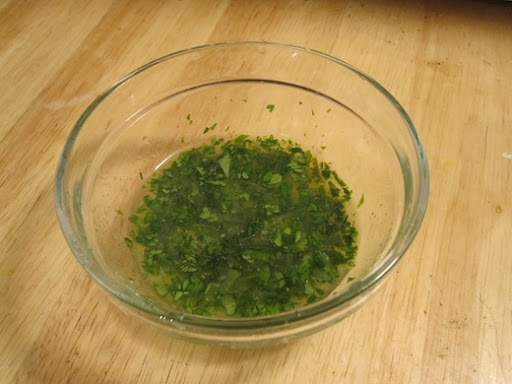 Also, instead of making the cucumber relish dipping sauce Ramsay recommends (because I was too lazy to go to the store to get cucumbers), I made a minty lime sauce. I added the juice of one lime, a big bunch of finely chopped/minced mint leaves & cilantro leaves, a little bit of fish sauce, a pinch of sugar, and Saracha hot sauce to taste. I thought it turned out to be a very nice compliment to the fish cakes. I am a genius!